THURSDAY 6th - SATURDAY 8th SEPTEMBER 2012
WELCOME
---
"The United Nations convention of the Rights of Persons with Disabilities aims to achieve human rights and development for all. The Paralympic Games are a powerful force for advancing this objective; they inspire not only athletes, but all of us, to recognize the unlimited potential of all persons".
Mr Ban Ki-Moon
United Nations,
Secretary General
---
Booking a place at the Summit
To secure your place at the IPC Academy Inclusion Summit, please follow the register/enrol link below.

For bookings for more than one delegate please
contact Phillip Broeders at World Academy of Sport
AIMS
The IPC Academy Inclusion Summit 2012 aims to build on the success of the Accessibility Summit in Vancouver in 2010 to discuss inclusion and accessibility, how these impact on society, and what the Paralympic Games represent as a catalyst for societal change for people with a disability.
> View the programme
ATTENDEES
The Inclusion Summit provides a platform for business leaders, governments and the Paralympic Movement more broadly to discuss inclusion for people with a disability and the related area of accessibility.
VENUE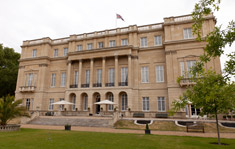 Photo: UK Foreign and Commonwealth Office
The Inclusion Summit is to be held at Lancaster House in London. Just opposite Buckingham Palace and close to St James' Palace, Lancaster House is a stunning venue. A classic example of opulent Victorian design, with its ornate decoration and the dramatic sweep of it's great staircase, Lancaster House will help set the scene for what is an important and vital occasion.
> More about the venue

Photo: Getty Images
http://www.ipcinclusionsummit.com/index.php?academy=1&course=8&page=1210

(c) Copyright 2010 World Academy of Sport